Artist Statement
In my work, I reveal the different layers of history, mythology and the present to create a narrative image: a form of visual archaeology, at times blending or colliding with immanent social, political and ecological realities. In this way, the picture also becomes a place for the imaginary and its projection. It appears at times like a stage- or film set, pending in limbo, somewhere between reality and imagination, past and present.
After a phase of intensive research, I travel to the places in question to produce images. In my most recent projects, the archival and research material became an actual part of the exhibited work. In this project on Orientalism, I decided for the first time to combine those layers and superimpose them in critical compositions. It was initiated during my stipend residency at Kulturakademie Tarabya in Istanbul in 2018.
The Installations
In Re-Visiting Orientalism, I approach the various projections and problematics of Orientalism by overlaying historical Orientalist paintings with contemporary sceneries, thus opening up a field of interpretation and hinting at geopolitical, ecological and social problems as well as political realities. The work becomes a subversive deconstruction of the Western Orientalist perspective by using its aesthetics and creating a palimpsest of the now and the Orientalist imaginary.
During my research, I travelled to Istanbul, Kuwait, Dubai, Baku, Tbilisi and Tunisia. It is a work in progress, and further destinations are planned for the completion of the theme. 
Andréas Lang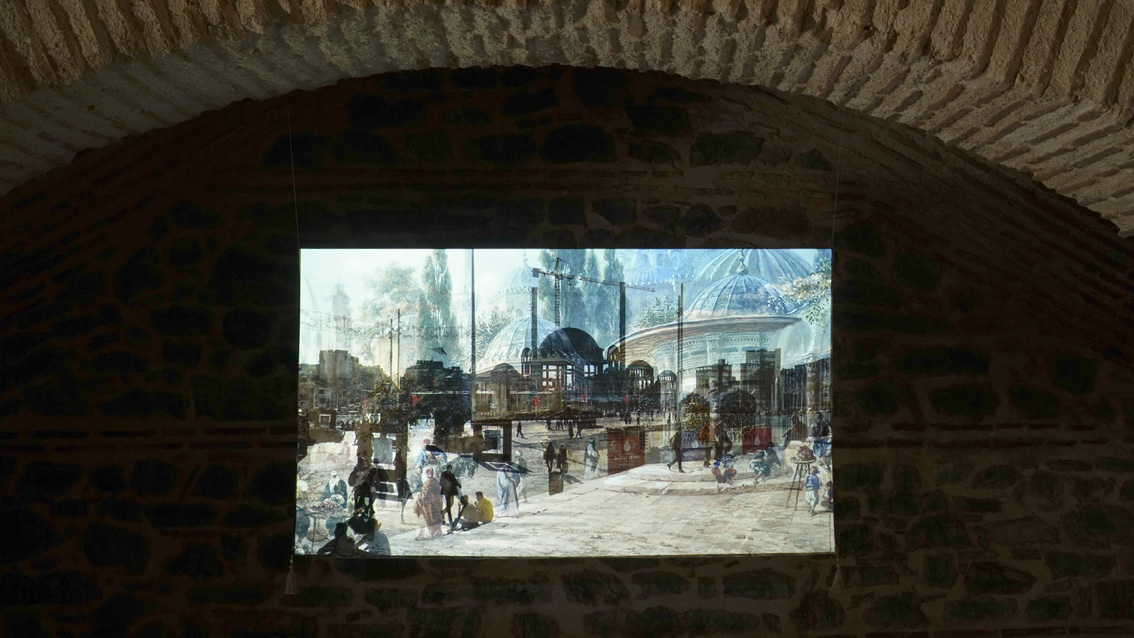 Installation view Istanbul, 2019